Re-defining people's relationship with training.
​b.cycle infuses passion into working out by creating fun and entertaining experiences that inspire and motivate you to defy your expectations. No matter your age, your fitness level or your lifestyle.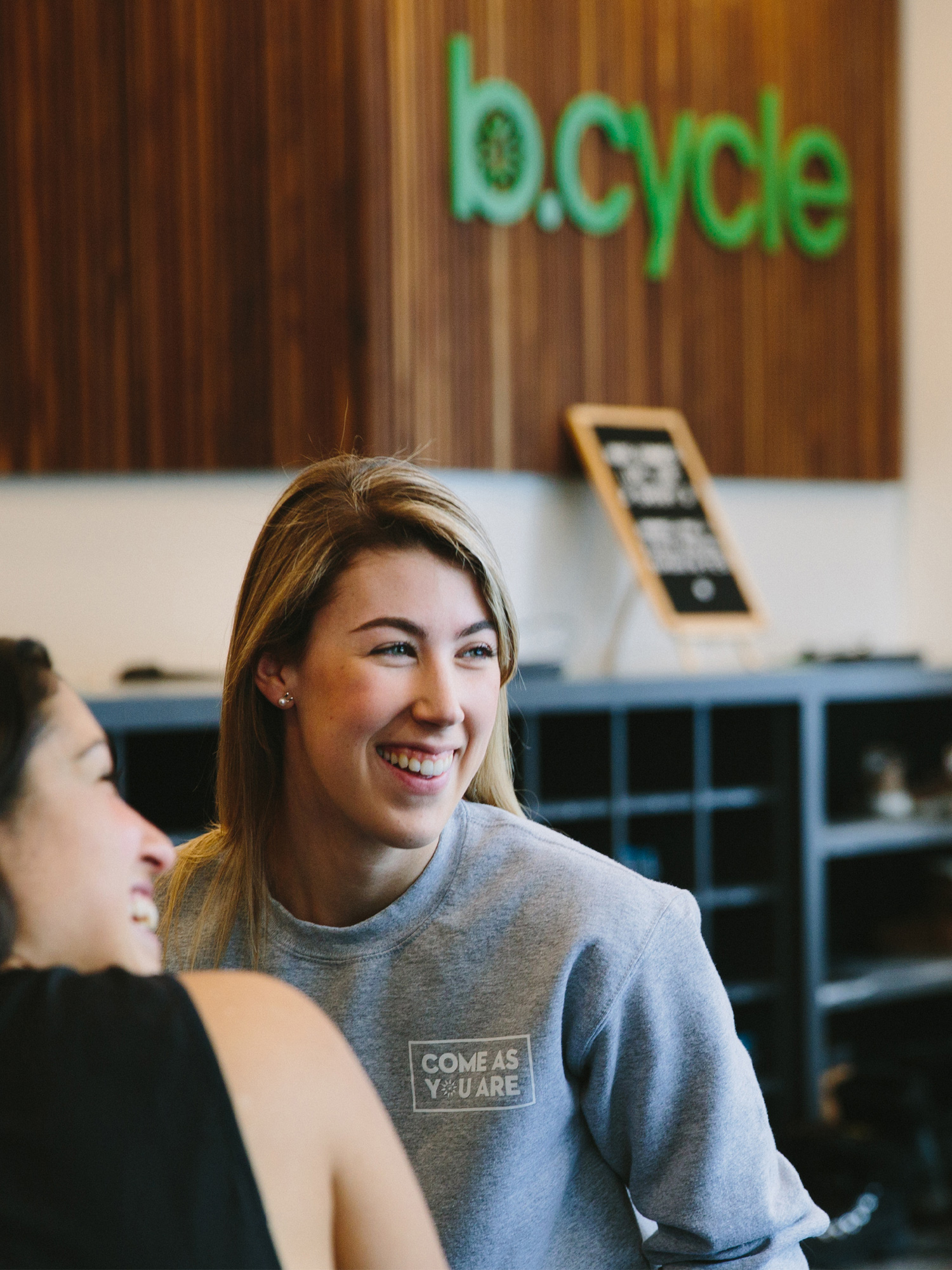 High paced and dynamic workout that combines a mix of interval training, upper-body movements and hand weights. Our performance tools will allow you to track your improvement, set goals and challenge yourself. Ride to the beat, dance, smile and test your limits.
An upbeat, full body, low-impact workout focused on toning and strengthening! Hold it, pulse it, burn it 'til you shake.
All our studios come fully equipped with high end amenities.
Each studio is equipped with 12 showers that are stocked with organic luxury products by Oneka (shampoo, conditioner, body wash). Fresh workout towels will be waiting for you on your bike or mat. Moreover, changing rooms are equipped with shower towels, hair-dryers, hair-straighteners, female hygiene products, hair elastics/pins and more.
The b.team is a group of passionate and talented individuals who are dedicated to sharing their love of fitness with you! 
New to b.cycle? Here's what you need to know before your first class.
Don't worry
—you can pack light.
Hydration is KEY. We have refill stations with filtered water in each studio and we also sell water bottles just in case you accidentally leave yours at home.
Bring a comfortable outfit that you're not afraid to sweat in (because we promise you will get sweaty!)
A pair of spin shoes will always be provided to you but don't forget your socks! You can always bring your own, as long as they are equipped with Look-Delta or SPD cleats. Our body classes are done barefoot, so no need for special footwear.
It's as easy as
one, two, three... four!
Create your profile and choose your spot.
The day has arrived! We ask that you arrive 15 minutes before class so we can give you a tour and properly set you up on our bikes or mats with any equipment you might need.
Relax and enjoy your first class with us!
If a class you were hoping to take is full, add your name to the waitlist! If a spot becomes available before 6 pm the night before, our booking system will automatically add the first person on the waitlist. If a spot becomes available after 6 pm, an email will be sent to the entire waitlist that will give everyone the chance to book the open spot on a first come first serve basis. So turn on those b.cycle email notifications!
Late entries are not permitted once the Cycle / Body door has shut. If you are not checked in 5 minutes before class, your spot will be given away to a client who is waiting at the studio for the chance to get in to a sold out class.
Please note that all cancellations must be done prior to 6 pm on the eve of your scheduled class. You can Unreserve any bookings under the "My classes" tab in your profile. Any cancellation after this time will result in a $15 no-show fee for unlimited members or in losing your class.
Any member with an active auto renewal contract has the ability to pause his-her membership. A proof of travel or medical note is required to apply the pause.
Before b.cycle, I absolutely hated working out. It was very difficult physically, mentally, and emotionally for me because I could never stay motivated long enough to see results. My first barre class made me fall in love! The results I've seen have been numerous: improved muscle tone, endurance, focus at work, patience, acceptance about my body… and the list goes on. Thank you b.cycle for taking me as I am from the first time I walked in though the door, and for welcoming me ever since.